Partner Solutions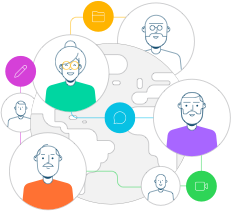 We've partnered with some of our leading independent software vendors (ISVs) to deliver comprehensive Webex solutions for organizations of all sizes. These pre-built integrations connect the Webex suite with select business apps to optimize user workflows and deliver simplicity for IT admins. Sold by Cisco, these solutions can be purchased the same way you buy your Cisco Collaboration products. Please explore our catalog and let us know how we can help you get started.
Connect with our Cisco experts today.
Email us
Benefits
Pre-built integrations deliver comprehensive
solutions for companies of all sizes.
Purchasing is simple, and deploy with confidence
using these Cisco-validated apps.
Partner Solutions
Partner

Industry

Use Cases

Dubber

Enterprise & Government

Solution Description

Dubber is fully integrated with the Cisco Webex Calling platform in the cloud, app, as well as MPP phones. The Dubber solution enables recording of all calls (Internal and PSTN) placed/received on the Webex Calling platform for replay and management. Dubber call recording can be switched on instantly. Dubber's recorded conversations provide AI-driven insights and data to fuel dashboards and enrich customer data in applications like Salesforce - helping companies improve sales productivity and customer satisfaction.

Use Cases

Automatically record every conversation on Cisco Webex with unlimited scale and storage with full encryption

Create powerful insights, reporting and alerts from every conversation.

MazeMap

Various

Solution Description

MazeMap uses Webex boards in Kiosk mode to help users find nearest available meeting room. MazeMap allows seamless mobile QR-code scanning to transfer room details to your phone making finding the room easier. MazeMap can also automatically free up meeting rooms that are booked, but not used. This technology combined with Cisco DNA Spaces makes for a robust Return to Office solution.

Use Cases

Find meeting rooms based on where you are physically standing and from webex board and mobile App

Interactive way-finding with navigation, finding available meeting rooms now and free up meeting bookings with 'no-show'

TRACKtech

Government, Public Sector

Solution Description

TRACKtech is a monitoring solution designed to address the challenges of high recidivism rates and overwhelming caseloads faced by organizations responsible for community supervision and support of those who are re-entering our communities.

Use Cases

Rehabilitative support and compliance monitoring services for those under any type of community supervision, such as probation, parole, diversion or pre-trial release.

Real-time compliance insight through fully integrated Webex Meetings application where remote check-in allows Officer to view and engage in real time with Program Member's

See https://apphub.webex.com/meetings/applications/tracktechsupervision for more information

ExtendedCare

Healthcare

Solution Description

Extended care provides products and solutions to provide healthcare professionals with virtual/remote tele-medicine options

Use Cases

ExtendedCare "Virtual Care Room" integrates state-of-the-art video into clinical workflows with virtual waiting rooms, notifications, and multi-party video

ExtendedCare's in-hospital "Patient Experience" solution links patients, care teams, and family caregivers together in a video-rich "virtual room" providing secure, shared access to personalized medical information.

See https://apphub.webex.com/meetings/applications/extendedcare for more information

Nectar

Enterprise

Solution Description

Nectar monitors, collects, and correlates critical data across Cisco and multi-platform UC environments. Their unique real-time visibility enables Enterprises and Service Providers the ability to quickly identify, isolate, and remediate issues impacting user experience for their voice, video, and collaboration needs.

Use Cases

View voice, video, and conference sessions end-to-end across your platform, network, and endpoint domains dramatically reducing the time required to resolve performance problems.

Measure and maximize your ROI and user adoption by optimizing your users' experience while providing comprehensive data to your IT help desks and operations teams.

See https://apphub.webex.com/meetings/applications/nectar-corporation for more information.

VQ Communications

Government, Finance, Education, Healthcare, Manufacturing

Solution Description

VQ Conference Manager is the most complete management solution available for Cisco Meeting Server (CMS). It is recommended by Cisco and used by customers globally to deploy, operate, and analyze their video and audio conferencing services on the Cisco Meeting Server platform.

Use Cases

Derive maximum value and ROI from a Cisco Meeting Server deployment with a complete, integrated set of unified communications tools.
Securely scale to serve a large number of users with an on-premises solution that helps protect sensitive data.
Deliver optimal user experiences by easily configuring VQCM to meet an organization's specific requirements.

See https://apphub.webex.com/meetings/applications/vq-conference-manager for more information.

Luma Health

Healthcare

Solution Description

Maximize patient access with physicians to deliver high quality virtual telehealth patient visits powered by Luma Health and Webex Teams

Use Cases

Sending text messages to patients with details to access a private virtual room with their provider securely within Webex Teams.

Modernizing the patient experience allowing seamless connections to their providers directly from any device.

See https://apphub.webex.com/meetings/applications/lumahealth for more information

Cloverhound

Finance, Healthcare, Government

Solution Description

Cloverhound Connect is a video engagement platform, purpose built to provide advanced waiting rooms, attendee check-in, and administrative dashboards on top of Cisco Webex. Whether it's providing valuable insight to a Judge before calling a hearing, or a doctor conducting a telehealth appointment, the Connect platform makes Webex vertical specific for the needs of the customer.

Use Cases

Providing Judges with a virtual court hearing docket, where they are able to verify attendee check-in status, reference any associated cases, and communicate with attorneys.

Enabling telehealth virtual visits across multiple healthcare systems. SMS notifications and the advanced waiting room functionality ensure an easy to use solution that drives patient satisfaction and successful medical engagements.

RedSky Technologies

Enterprise, Education & Government

Solution Description

RedSky is the leader in E911 solutions for the enterprise. We specialize in products and services that FIND the 911 caller, ROUTE the 911 call to the appropriate emergency dispatch center, and NOTIFY emergency and administrative personnel of the 911 call with location detail. Cisco Certified Solutions available on the GPL.

Use Cases

CUCM with CER distributed enterprise with centralized call server. CER provides device location, E911 Anywhere routes call to appropriate emergency dispatch center and provides notifications.

For enterprises with Webex Calling, Horizon Mobility® supports a mobile workforce: Finds users who dial 911, routes calls to the appropriate emergency dispatch center, and notifies enterprise personnel. Also, covers hard and soft phones that share the same phone number.

Learn More about RedSky at https://apphub.webex.com/calling/applications/horizon-mobility

Theta Lake

Financial, Government and Public sector

Solution Description

Theta Lake provides AI-based digital communication compliance and supervision for Webex Meetings, Webex Teams, and Cisco Meeting Server

Use Cases

SEC 17a-4 compliant, long-term archiving, legal hold case management, and robust eDiscovery
Automated detection of compliance, regulatory, DLP, and conduct risks within voice, video, (webcam, virtual whiteboard, screen share), and chat (messages and shared files)

See Theta Lake Webex Meetings integration at https://apphub.webex.com/meetings/applications/theta-lake and Webex Teams Integration at https://apphub.webex.com/teams/applications/theta-lake-theta-lake

Local Measure

Manufacturing, Enterprise, Retail

Solution Description

Local Measure's integrated into Cisco Webex Teams and allows businesses to receive real-time customer feedback helping them better deliver exceptional customer service.

Use Case

Local Measure alerts are seamlessly pushed into a Webex Teams space, allowing front-line teams to click through to respond to customers, escalate and manage any developing situation in real-time and on the go, from anywhere on any device.

See Local Measure workflow management Integration at https://apphub.webex.com/teams/applications/local-measure-local-measure and Local Measure Employee Pulse Integration at https://apphub.webex.com/teams/applications/employee-pulse-local-measure-3142

Imagicle

Finance, Healthcare, Education

Solution Description

Imagicle provides the most complete set of UC apps in a single suite. Call Recording, Attendant Console, Advanced Queuing and Auto Attendant, Call Accounting & Analytics, Advanced Directory Services, IP Fax Server, and Hospitality Pack are integrated with all enterprise and service provider Cisco Calling platforms to enhance business communications.

Use Cases

Recording 100% calls either for critical services with legal requirements (regulations, emergency services, telephone orders), or for operator training and keeping track of important calls

Performing any kind of analysis on outgoing, incoming and internal calls, through preset and ready-to-use reports and dashboards, that can be customized with filters and groupings.

Virtualising fax management, delivering faxes directly to each user's desk via e-mail, web, multi-function printers, in Cisco Jabber and in mobility, on smartphones and tablets.

Involvio

Education

Solution Description

Involvio is designed with higher education students in mind. Allows faculty staff and students to communicate with a personal touch, and deliver help and resources where and when your students need it. Integration into Webex Education Connector and LMS.

Use Cases

Making it easy for higher-ed and university students to find and communicate with faculty and staff from any device at any time

Easy 1-1 video calling an robust messaging and file sharing with enterprise grade privacy and safety front and center

Singlewire

Manufacturing, Retail, Government, Healthcare

Solution Description

Singlewire's alert software offers the only emergency notification system that reaches people on-premises and when they are mobile, helping to extend the reach of communications tools already in place, reducing costs and saving time.

Use Cases

Emergency first response co-ordination requiring the quick notification and gathering of the people who can manage the situation to resolution inside of Webex Teams

Enterprise employee communication or disaster recovery type communication e.g. Lockdown, Chemical spill, Schools Closed etc

See InformaCast Integration at https://apphub.webex.com/teams/applications/informacast-incident-response-singlewire

Mio Universal Channels

Manufacturing, Enterprise, Retail

Solution Description

Fed up of multiple messaging tools? .Synchronize internal and cross company communication across Microsoft Teams, Slack, and Webex Teams from a single window

Use Cases

Respond to customers, partners, & vendors in real time: Work normally from Webex Teams spaces.

Chat from one place, not all over the place. Reduce the number of guest accounts you switch between. Finish projects faster by sending files, reply to threads, & react to messages.

See Mio Integration at https://apphub.webex.com/teams/applications/mio-universal-channels-mio

Approved Contact

Various

Solution Description

Approved Contact offers a secure and seamless multi-party scheduling tool for websites, Cisco Webex meetings, Webex Teams, as well as numerous voice and phone services.

Use Cases

Meeting organizers can compare meeting times with participants from different companies to quickly find suitable times that work for everyone saving time and increasing productivity.

See Approved Contact Bot at https://apphub.webex.com/teams/applications/ac-calendar-bot-approved-contact

AppSpace

Enterprise and Retail

Solution Description AppSpace provides the ability to add Digital Signage to Webex Rooms, Meeting Booking/Availability software, Kiosk solutions and Employee Engagement

Use Cases

Making best use of large conference room displays to showcase company updates and announcements when they aren't being used for presentations and calls.

Driving employee engagement by helping employees to find the available meeting space easily and instantly book it from outside the room.

See AppSpace Bot at https://apphub.webex.com/teams/applications/appspace-appspace-inc

Qwasi

Manufacturing, Marketing, Education, Retail

Solution Description

Leverages real time customer data with IOT technology to deliver personalized customer communication to increase sales, grow retention, and improve LTV.

Use Cases

Increase customer engagement, improve service and drive brand loyalty by leveraging mobile to deliver personalized shopper experiences via text, email, push messaging or SMS

Sending reservation alerts & updates via 2-way chat between guests and concierge desk or establishing an Internal employee communication platform

See Qwasi Integration at https://apphub.webex.com/teams/applications/active-mobile-qchat-by-qwasi-qwasi-innovation-labs

vBrick

Manufacturing, Enterprise, Finance, Healthcare

Solution Description

Vbrick's video management platform together with Webex enables companies to deliver video across a variety of platforms and devices, making enterprise video easier and more manageable than ever before

Use Case

Instantly share videos directly to Webex Teams spaces using sharing features and subscribe to video updates through notifications delivered to Webex Teams spaces.

See vBrick Rev Integration at https://apphub.webex.com/meetings/applications/vbrick-rev

Oblong

Public sector, Manufacturing, Enterprise, Retail

Solution Description

Oblong's Mezzanine solution transforms video calls into high performance work sessions with multi share collaboration

Use Cases

Integrate Oblong with your existing Webex Room technology extending the workspace for users to be more productive

Enabling teams to see and share multiple pieces of content, allowing them to easily compare and cross-reference different decision factors in real-time

Vyopta

Manufacturing, Enterprise, Retail,

Solution Description

Vyopta provides visibility across Enterprise workplace collaboration environments, helping organizations reduce blindspots, make data-driven decisions, and efficiently manage UC systems and meeting spaces.

Use Cases

Understand how your meeting rooms are being used around-the-clock in and outside of calls, then mitigate costly inefficiencies and intelligently plan for the future.

Helping IT organizations proactively identify risks, reduce troubleshooting time, accurately diagnose issues, improve adoption, and maximize ROI.