Solutions sold by Cisco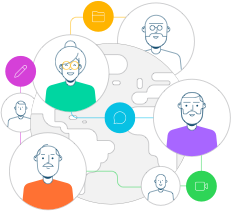 We've partnered with some of our leading independent software vendors (ISVs) to deliver comprehensive Webex solutions for organizations of all sizes. These pre-built integrations connect the Webex suite with select business apps to optimize user workflows and deliver simplicity for IT admins. Sold by Cisco, these solutions can be purchased the same way you buy your Cisco Collaboration products. Please explore our catalog and let us know how we can help you get started.
Connect with our Cisco experts today.
Email us
Benefits
Pre-built integrations deliver comprehensive
solutions for companies of all sizes.
Purchasing is simple, and deploy with confidence
using these Cisco-validated apps.
Webex Solutions Sold by Cisco
| | | |
| --- | --- | --- |
| Partner | Industry | Use Cases |
| Approved Contact | Manufacturing, Enterprise, Retail, Media house, Marketing Organization, Sales and Tele-Sales | Customer is looking to offer secure and seamless scheduling tool for multiple parties through websites, webex meeting, webex teams, text, email, mobile, voice recognition, and phone. Customer is looking for users to compare open times with people from different companies to quickly find times that work for everyone. |
| Voicea | Public sector, Manufacturing, Enterprise | Company wants to increase the productivity during meetings, the highest percentage use of time for collaboration. Company wants their employees to easily capture the important highlights during the meetings and deliver them to the teams required to get work done. |
| Qwasi | Manufacturing, Marketing firms, Education Institution, Enterprise and Retail | Company is looking to increase customer engagement and drive loyalty, improve service leveraging mobile and Deliver personalized experience. They are looking to send reservation alerts & updates via 2-way chat between guests and concierge desk or establish an Internal employee communication platform |
| Local Measure | Manufacturing, Enterprise, Retail, Media house | Company wants to uncover new insights about on-site customers and visitors. Company wants to know what's happening on the ground in real-time about an individual and transform the way companies understand and engage in real time with visitors and their physical venues in the digital realm. |
| Mio | Cross Vertical – Manufacturing, Enterprise, Retail, Multi-location enterprise | Customer has mentioned safety/security and incident management as one of the requirements. Customer has CUCM/HCS endpoints with Webex Teams integration. They want a way to implement mass-notification (for standard emergency purposes) and measure results. |
| Vyopta | Cross Vertical – Manufacturing, Enterprise, Retail, Multi-location enterprise | A global corporation with over 60 offices worldwide and a 40,000+ employee base ranging from remote to in-office — each with their own collaborative needs — the company needed to understand exactly how their 1500+ meeting spaces were being used in order to effectively plan for the future. Since real estate is the largest company expense, the teams in charge of collaboration technology and workplace experience needed data to make better informed decisions. With the company having over 180,000 square feet of meeting space globally, the corporation needs the ability to make data-driven decisions rather than off assumptions. The company needs insight into the utilization of it's collaboration technology and spaces in order to save on cost per square foot, since the largest expense to the company is real estate. |
| Smarsh | Financial Institution, Government and Public sector | A global financial institution needs a solution to implement supervision for retention and oversight of electronic communications in order to comply with FINRA Rules 3110 and 3120 as well SEC Rule 206(4)-7, the so-called Compliance Rule. Compliance rules require a firm to establish, maintain, and enforce written procedures to supervise the types of business in which it engages. The requirement also includes an investment advisory firm to adopt and implement written compliance policies and procedures to detect and prevent compliance violations, perform an annual review, and designate a Chief Compliance Officer (CCO). This institution need to implement a powerful solution with capabilities to capture, search, and review all electronic communications, and with rich policy tools that help accuracy and efficiency of supervision is critical to compliance teams. |
| Oblong | Public sector, Manufacturing, Enterprise, Retail, Media house | Company/customer is looking to: • Improving Team Productivity • Data-Driven Decision-Making • Multi-Site Collaboration • Immersive Customer Engagement Team productivity is about more than meeting efficiency, it's about employee engagement and empowering teams to solve problems with speed and confidence to outpace the competition. |
| AppSpace | Public sector, Manufacturing, Enterprise and Retail | Company wants to use conference room displays to showcase company updates when they aren't being used for presentations and calls. Company wants to keep employees/teams informed and engaged by sharing the latest announcements, reports, social activities, and more on large format displays in common areas. In addition, the company wants employees to find the available meeting space easily and instantly book it from outside the room. |
| Singlewire | Cross Vertical- Strongest in Public Sector, Manufacturing, Enterprise and Retail | Customer has mentioned safety/security and incident management as a care about. Customer with CUCM/HCS endpoints are low hanging fruit for added value with Webex Teams integration. They want a way to do mass notifications (for standard or emergency purposes) and measure results |
| Dynamic Signal | Manufacturing, Enterprise and Retail | Company wants to manage their Employee-Corp communication via a single, Web-based platform and build their brand equity internally while helping to drive engagement with employees. Company wants to reach every employee with the right communication on the right channels to develop a more informed, engaged, and activated workforce. Empower employees to take initiative and measure the effectiveness and impact of communication efforts across every segment of your organization. |
| Vbrick | Cross Vertical- Strongest in Manufacturing, Enterprise, Finance, Healthcare | Customer creates/ingests a great deal of video content from recorded or live streaming sessions. They mentioned training use cases or employee onboarding needs. They do company wide all hands, they have invested in room based video endpoints or are thinking about buying cloud/prem units |